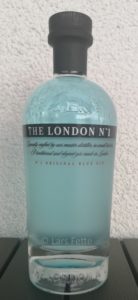 Hinter dem The London No. 1 verbirgt sich ein Gin des spanischen Unternehmens González Byass. The London No. 1 hat seinen Ursprung in London, wo er auch heute noch hergestellt wird.
Die Produktion erfolgt durch "The London Distillery Company" im Norden Londons. Die hierzu verwendeten Hauptingrendienzien, Wasser und Getreide, stammen ebenfalls aus England, das Wasser aus den Quellen von Clerkenwell, das Getreide kommt aus den Grafschaften Suffolk und Norfolk, in der Nähe von London. Die weiteren zwölf verschiedenen Ingredienzien wie Koriander oder Zimt werden aus der ganzen Welt bezogen.
The London No. 1 stellt nicht nur geschmacklich, sondern auch rein optisch gesehen ein Highlight dar. In einer alten Apothekerflasche mit durchsichtigem Glas präsentiert sich dieser Gin, der besonders durch seine aquamarinblaue Farbe hervorsticht. Mit zurückhaltendem, schlichtem Etikett werden der Gin und seine außergewöhnliche Farbe, die er durch den verwendeten Gardenien-Extrakt erhält, in den Vordergrund gerückt und so wird The London No. 1 zum edlen Hingucker in jedem Gin-Regal.
Qualitätsstufe: London Dry Gin
Alkoholanteil: 47%